PRESIDENTIAL ROGUES GALLERY: SATIRICAL POSTERS 1960s-PRESENT
OPENING RECEPTION: July 16th, 7-9pm
EXHIBITION DATES: July 16th-August 20th, 2016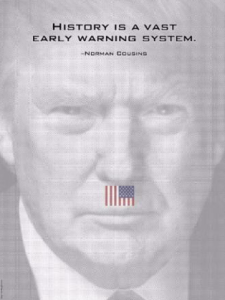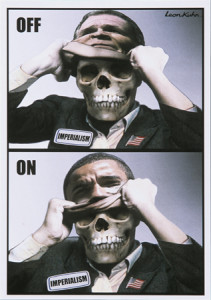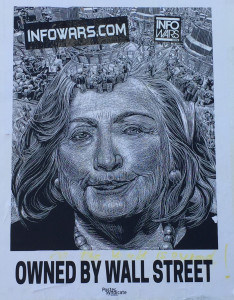 ARENA 1 Gallery is pleased to present Presidential Rogues Gallery: Satirical Posters 1960s-Present from July 9-August 20th, 2016. The exhibition was curated by the Center for the Study of Political Graphics and will be on view during the time when both Republican and Democratic Party conventions are held for the 2016 elections. The humor and artistry of protest posters offer powerful commentary on political issues. Well suited as a means to critique the powers-that-be, posters targeting the presidents of the United States demonstrate a special brand of satire. Lampooned or lambasted, these presidential posters hold our political leaders accountable for social ills, make fun of their foibles, and act as a call to spur activism around a wide range of causes. If you can laugh at someone, you can also challenge him.
Spanning administrations from Lyndon Johnson's to the present, the posters in A Presidential Rogues Gallery have nothing in common with traditional electoral posters supporting one candidate over another. Whether mobilizing against war, criticizing social policy, or targeting hypocrisy, both Republicans and Democrats are targeted in this exhibition.
Many posters appropriate the visual language of advertising and film promotion. George Bush I becomes the "Marlboro Man," and George Bush II is depicted as the "Thief of Baghdad." Others rely on puns and familiar slogans, such as a 1980 poster showing Ronald Reagan as the "Fascist Gun in the West, or Robbie Conal's "Dough Nation" featuring Bill Clinton. Whether seen as humorous or scathing may depend upon the eye of the beholder.
These posters raise the issues and evoke the passions that inspire protests and protest art. They serve to remind all of us that democracy is based on the right and obligation to dissent, regardless of who sits in the Oval Office. We hope that this exhibition will amuse, bemuse, and provoke. As electoral campaigns continue, we may well need laughter and a measure of irreverence to put the political drama in perspective, as we wonder which candidate, and which issue, will be the first to appear on the next set of posters. We promise to bring them to you.
For more than two decades the Center for the Study of Political Graphics has been creating a special community of artists, activists, donors, students, and teachers who share a passion for political posters.
CSPG's posters are primary historical documents that reveal histories of struggles that are too often hidden, and more often forgotten. Our unique activist, educational, and research archive contains more than 85,000 protest graphics from the 19th Century to the present—including the largest collection of post-World War II posters in the United States.
ARENA 1 is an exhibition space founded by Santa Monica Art Studios directors Yossi Govrin and Sherry Frumkin. Based in an historic hangar at the Santa Monica Airport, ARENA 1 invites nationally and internationally renowned artists, as well as established curators, to develop innovative and compelling exhibitions