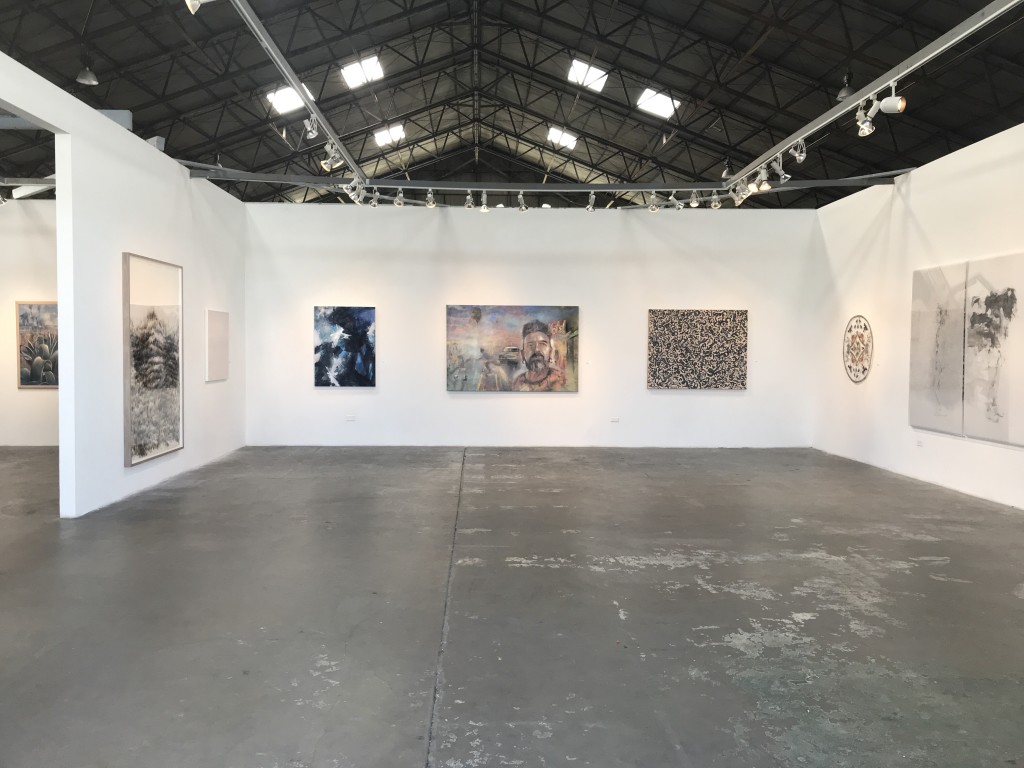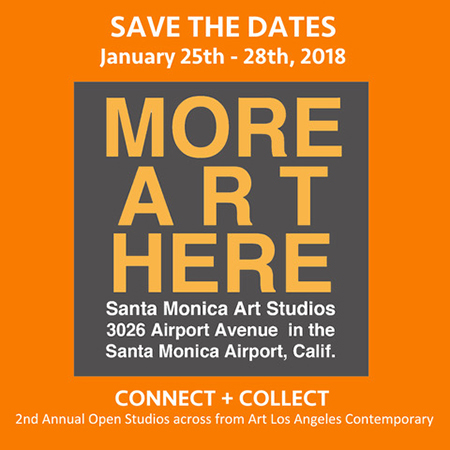 MORE ART HERE
January 25 – 28, 2018
Thursday, Friday, Saturday and Sunday, 12-6pm
This event is free
3026 Airport Avenue
Santa Monica, CA 90405
MORE ART HERE lands at the Santa Monica Airport!
MORE ART HERE is an artist organized casual Open Studios. Over 25 artists will open their studios while they work inviting visitors to CONNECT + COLLECT directly.
This weekend, art enthusiasts, patrons and curators are invited to look inside the artist's studio. Studio artists will be on hand to talk about their work from conceptually driven to traditional mediums.
Participating artists; Janine Brown, Stephanie Cate, Gregg Chadwick, Claudia Concha Perea, Lola del Fresno, Wendy Edlen, Judith Golden, Deborah Lynn Irmas, Christiane Johnson, Sheila Karbassian, Sally Lamb, Jackie Nach, Maddy Le Mel, Luigia Martelloni, Susie McKay Krieser, Malvina Milliron, Shae Rocco, Paula Rosen, Melinda Smith Altshuler, Gwen Samuels, Rebecca Setareh, Elham Sagharchi, Diane Silver, Pamela Simon-Jensen, Doni Silver Simons, Collin Stark, Joan Wulf, Karen Woo and more.
SPECIAL EVENTS
Arena 1 Gallery hosts a special 4 day pop-up exhibition, "Points of Departure" curated by Maurizzio Hector Pineda featuring the Resident artists of the Santa Monica Art Studios.
Thursday 4:30pm & 7:30pm: Artist, Doni Silver Simons and composer, Michelle Green Willner, D.M.A. from Columbia University, present "Fragments," Featuring dancers Nicole Powell, Natalie McCall, Robin Wilson, and solo violinist/violist, Sharon Jackson.
Friday 1pm: Artist, Claudia Concha Perea produces a large scale interactive performative painting experience titled "Metamorphosis." This work of art activism invites the viewers to participate so the collective effort becomes the art and is inspired by a larger scale project in her native Colombia.
Saturday 1-3pm: "Me Too – Art and Feminism Now," a panel talk moderated by Kathleen McHugh, Chair of the Department of Film, Television, and Digital Media at UCLA. Guest panelists include: Actress-Writer Yareli Arizmendi / Artist, Activist Michele Pred represented by Nancy Hoffman Gallery. / Kim Schoenstadt Contemporary Artist and founder and spearhead of NOW BE HERE. / Feminist, Artist, Hollywood screenwriter Krista Suh also the co-creator of The Pussyhat Project. This panel is organized by Artist Gregg Chadwick.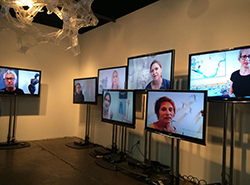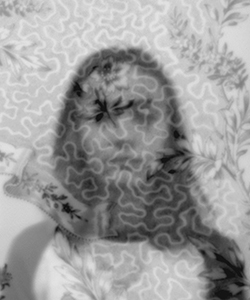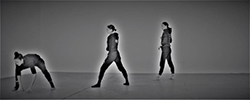 Each day on Shuttle: Doni Silver Simons In Transit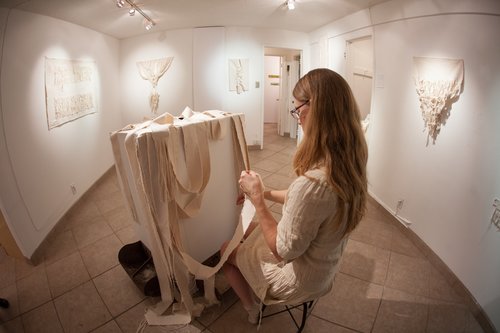 In Transit is a performative work taking place on a shuttle that transports visitors between More Art Here at the Barker Hangar and stARTup Art Fair throughout the weekend.
Inspired by her series, The Calm and the Chaos, in which Silver Simons has created drawings on airplanes and by her performances which document the passing of time, Transit memorializes movement, time and duration. Riders on the shuttle will participate at their seats during the 20 minute ride, deposit their work at the destination and receive a signed document commemorating their participation.
Silver Simons and her performers will also create works on the shuttle. The time/date, seat location, and performer will be noted on each of their works.