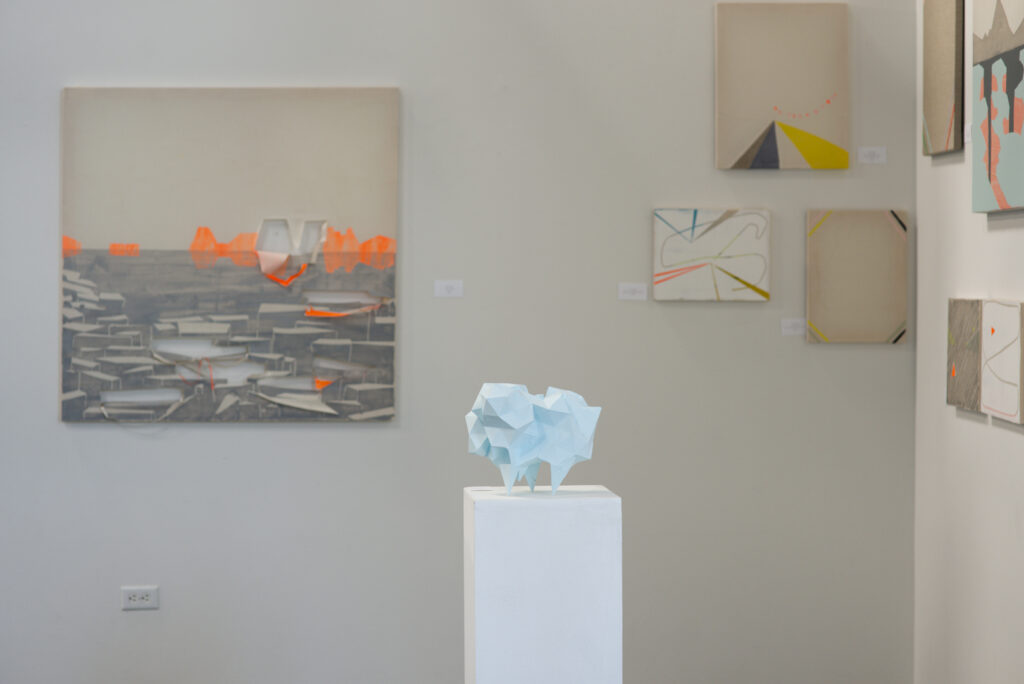 OPENING RECEPTION: Saturday, October 12, 6:00 – 9:00pm
Sunday, October 13, 1:00 – 5:00pm
OPENING NIGHT PERFORMANCES: Saturday, October 12, 8:00pm by Fabienne Grisel and Steve Postell
Curated by Yossi Govrin and Krista Augius
ROBIN HILL, TANJA RECTOR, BERENIKA BOBERSKA, OONA GARDNER, WILLIAM RANSOM, JEFFREY GARRETT, KRISTA AUGIUS
Arena 1 Gallery is pleased to present Multifarious Architecture a group exhibition, curated by Yossi Govrin and Krista Augius, including the work of sculptors, installation artists, architects and video artists that explore relationships of spatial elements in a diversity of ways within a gallery space. As humans, we are alert to orient ourselves to our surroundings whether it is open space, the horizon line, or a confined space. Those thoughts provide dynamic consequences to each artist's perspective in their utilization of space with creation and expression as well as the viewer's response to them.
Artists included are:
Robin Hill is a sculptor and Professor of Art at the University of California, Davis. Her work has been exhibited extensively both nationally and abroad. Her work is in numerous private and corporate collections, as well as in the collections of the Richard L. Nelson Gallery & The Fine Arts Collection, the Fogg Art Museum, and the UCLA Hammer Museum. In this show, Stains addresses the emergent structures that play out in an artist's studio process and how the shapes of the stains foreshadow their true nature with time while exploring relationships between chance and intention, observation and creation, ephemeral and permanence…
Tanja Rector was born in Amsterdam, Holland and lives and works in Santa Monica. Her current work, Travels, retraces a month long journey through the southwestern United States via painting and sculpture. The resulting pieces are raw, intense and unadorned as the landscapes of California, New Mexico and Texas. Rector utilizes minimal paint on raw linen and muslin. The translucency of the muslin shows the structure is stretched over discovering new perspectives. The accompanying sculptures catalogue the defiant manmade structures that dot in this emptiness-the blank roadside billboards, disused industrial machinery and dilapidated homes. Viewed together these paintings and sculptures collaborate in an incredibly immersive experience.
Berenika Boberska of Feral Office is an architect, installation artist and urban provocateur. She received dual Masters from the Bartlett School of Architecture in London and the Royal College of Art, London. After working for 6 years as a designer at Frank Gehry's office she started her own practice, Feral Office, which won first prize in the international design competition for the A&D Festival Pavilion in Novosibirsk, Russia. She lives and works in Santa Monica and is Professor of Practice at Woodbury University School of Architecture.
In this show she presents, Cities of the Interior, a physical sketch for an imaginary aerial structure; should this architecture escape from its confinement and into the air-basins of Los Angeles, a more ephemeral and dynamic urbanism would possibly take seed.
Oona Gardner earned her BA from Bennington College and an MFA from the Cranbrook Academy of Art, Bloomfield Hills, MI. In 2010 Oona was an artist-in-residence at Nes Artist Residency in Skagastrond, Iceland. In this show, she presents Snaefellsnes a ceramic and wood sculpture.
William Ransom was born and raised in Strafford, VT and now lives and works in Los Angeles. Ransom's work centers around object making with the goal of evoking direct, sometimes visceral response through manipulation of the physical properties of material and relishing the tectonic possibilities of the derived forms. In this show, Thresher explores the contingency and expediency of a clamp as a means of making and unmaking work. The clamp exerts force in what could be considered a temporary fashion due to its ability to be undone as easily and quickly as done. It captures and freezes a moment much like a photograph but in real time and real space and it is a picture that can be untaken without a trace.
Jeffrey Garrett was born in West-Berlin and is a European Architect who received his Masters Degree in Architecture at the University College London and graduated with a Master of Science degree in Architecture from the Berlin Institute of Technology. The following eight years Jeffrey spent in Frank Gehry's Studio with a focus on designing cultural projects. Jeffrey's work has been recently exhibited at the Second Moscow Architecture Biennale and he is a frequent studio critic at universities in the US and Europe. Jeffrey lives and works in Santa Monica. His current work, ROUGE FLUO. OVER WHITE, SPACE TEST #16 is a generic white-box gallery that is transformed into a space of movement, effervescent color and light.
Krista Augius, co-curator of this show, is a Los Angeles based multimedia artist. In this show, FLOW, shot in Sydney Australia, explores the ethereal and magical journey of the feminine in a liquid space. It awakens our nostalgic senses to the intimate time of our conception and development. The mysteries of a woman are glimpsed in the endless flow of nature's joyful spirit.
Yossi Govrin, curator of this show, is a sculptor, artist and the director of the Santa Monica Art Studios. He studied at Bethzalel High Academy of Art and Design, Jerusalem, Israel and the Hebrew University, Jerusalem, Israel Major Studies in International Relationship and Sociology. Govrin has show both nationally and internationally, his latest shows include: artMRKT, San Francisco, Art Platform, Los Angeles, Art Hamptons, NY, Art Aspen, CO, Art Market, San Francisco, Los Angeles International Art Show, Los Angeles Convention Center, Scope International Art Show, Miami, Shanghai Art Fair, China.
ARENA 1 is an exhibition space founded by Santa Monica Art Studios directors Yossi Govrin and Sherry Frumkin. Based in an historic hangar at the Santa Monica Airport, ARENA 1 invites internationally known as well as newly established curators to develop innovative and compelling exhibitions.