Arena 1 is a not for profit contemporary visual arts organization dedicated to promoting cultural exchange through international curatorial projects. Based in an historic hangar at the Santa Monica Airport, Arena 1 has an exhibition space where younger, newly established as well as internationally known curators will be invited to organize exhibitions representing the most innovative and compelling artists from their countries.
In the Los Angeles area, we have a unique opportunity to address the cultural "trade imbalance" by creating a contemporary arts environment that accentuates the vision of our community as a cultural port. Arena One is committed to importing unique and divergent international viewpoints and exporting innovative and challenging views of American culture.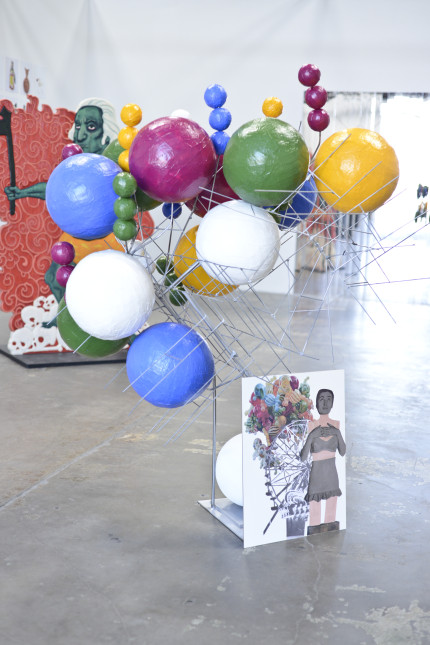 "Humor is reason gone mad" Groucho Marx
"Comedy is the art of making people laugh without making them puke." Steve Martin
Curated by Allen Tombello
Antonia Baehr, John Baldessari, Joshua Callaghan, Gary Cannone, Erin Cosgrove, Alice Konitz, Kristi Lippire, Jean Robison, Amy Sampson, Amy Sarkisian, Kim Schoen, Holly Topping, Hennessy Youngman
OPENING RECEPTION: Saturday, June 29, 2013, 6:00 – 9:00pm
Special opening night performances by Josh Fadem (30 Rock) and Brian Farrell (New Girl) and other LA comedy talents. 8:00pm
Arena 1 is pleased to present Masters of Irreverence a group exhibition, curated by Allen Tombello, which gathers the work of thirteen painters, sculptors and video artists in an examination of the parallels between the creation of art and humor. The artists embrace their joy in antic making, and collectively their strategic "irreverence" breathes life into old forms, provides an emollient for social tension and offers the most rare of qualities, enjoyment. Together they make a strong case for humor as a cognitive clean-up – "evolutionarily speaking, the brain's method for debugging itself."
The show will be an anarchic romp of visual mayhem. Humor theory often privileges linguistic models to analyze the spaces that produce humor. Harpo placing his leg in someone else's hand perhaps defies analysis, but nonetheless is important to understanding the link between humor and art-making. Hennesy Youngman's How to Succeed as a Black Artist, parodies the artists' role in society. Kim Schoen's Have You Never Let Someone Else Be Strong focuses in on the mechanics of the fountain display at the Bellagio in Las Vegas with sinister effect. Erin Cosgrove's terrorist romance video A Heart Lies Beneath stars Fabio. Enough said.
Tombello was inspired by the book Inside Jokes: Using Humor to Reverse-Engineer the Mind and Freud's The Joke and its Relation to the Unconscious among other sources. In Inside Jokes, the authors consider humor as one of the self-correcting strategies employed by the brain. This exhibit suggests that humor theories are united to theories of art-making in the way they process and resolve contradiction and false beliefs – one is on a personal scale in the mind, and one is societal within the broader culture.
Artists included are:
John Baldessari: is a conceptual artist known for his work featuring found photography and appropriated images. He lives and works in Santa Monica and Venice, California. He has created thousands of works that demonstrate—and, in many cases, combine—the narrative potential of images and the associative power of language within the boundaries of the work of art. His art has been featured in more than 200 solo exhibitions in the U.S. and Europe.
Joshua Callaghan: born in Doylestown, PA, earned an MFA from the UCLA and a BA in Cultural Anthropology from the University of North Carolina at Asheville. Recipient of a Fulbright Grant to Nepal. His work has been included in exhibitions in the U.S. and abroad including and solo exhibitions at Steve Turner Contemporary, Los Angeles (2011), Haas & Fischer Gallery, Zurich and Bank Gallery, Los Angeles (2008).
Gary Cannone is an artist and writer living in Los Angeles. He has had solo exhibitions and screenings in Chicago, Los Angeles, & New York and has participated in group exhibitions throughout the United States and Europe. His artwork is concerned with communication, exchange, and interpretation and has taken the form of lists, public signage, photography, audio, performance, film screenings, books, and video.
Erin Cosgrove: is an artist whose satirical work employs multiple mediums and layers to engage complex moral and political content. Her videos, sculptures, drawings, and books have been exhibited throughout the United States and Europe. She has received grants and fellowships from The John Simon Guggenheim Foundation, The Creative Capital Foundation, The Durfee Foundation, The Center for Cultural Innovation, The Jerome Foundation, and other sources.
Alice Könitz: is primarily known as a sculptor who maintains a strong relationship to places as they manifest in geography, design and attitude. She has publicly performed as a singer, actress, endurance artist, video-maker and as a ukulele player in the past. She also founded the "Los Angeles Museum of Art," LAMOA, a small-scale private institution that showcases contemporary art and events.
Kristi Lippire: received her Master's degree from Claremont Graduate University and her Bachelor's from California State University Long Beach. Lippire's work appropriates found elements of visual culture and alters their scale, material and context creating a new, familiar yet peculiar narrative. She lives and works in Los Angeles.
Amy Sampson and Jean Robison have been collaborating on art projects, conversations and multi media events for the better part of 15 years. Meditating on the absurd, their minds meet in a place of joyful observation of both the drama and comedy of the human condition. They both live in Los Angeles and have exhibited artwork individually throughout the United States, Europe, and Mexico.
Amy Sarkisian: has exhibited her work at Sister Galley, Atelier Cardenas Bellanger, Susanne Vielmetter and Marella Arte Contemporanea. She has also shown recently at artist-run spaces WPA Los Angeles and WEEKEND Space in Hollywood. Sarkisian lives and works in Los Angeles.
Kim Schoen's work explores the rhetorics of display. In her performative and experimental video installations, photographs, texts, and objects, she explores the blank repetition of consumer culture. She received her M.F.A. in photography from CalArts in 2005 and her Masters in Philosophy from The Royal College of Art in London in 2008. Kim is also the co-founder and editor of MATERIAL, a journal of texts by visual artists.
Holly Topping: is a Los Angeles based painter interested in and Irony and historical painting. She has had exhibitions in Los Angeles, and throughout the United States. She is currently Assistant Professor and chair of the Figurative Art Program at Orange Coast College. Holly received her BFA from Otis College or Art and Design and her MFA from UCI, Irvine.
Hennessy Youngman is a persona invented and performed by Jayson Musson. In 2010, Musson created the character of Hennessy Youngman, which subsequently became an Internet phenomenon through the popularity of the "Art Thoughtz" video series. Musson publicly divides his persona with the character's by referring to Youngman as his "cousin.". Musson has shown internationally and his work is represent by Salon 94 in New York.
Curator
Allen Tombello is an artist, designer and curator living and working in Los Angeles. He has had exhibitions in Los Angeles, New York and the Netherlands. Allen Tombello received his BFA from R.I.S.D. and MFA and MArch1 from UCLA. He is currently working on an exhibit of his work "Das Illuminations" which opens at Andrew Shire Gallery in July and his next curatorial project, "Somebody Has an Orgasm, Someone Gets Shot " a survey on the persistence of narrative in art.
"Right now I'm having amnesia and déjà vu at the same time."—Steven Wright
ARENA 1 is an exhibition space founded by Santa Monica Art Studios directors Yossi Govrin and Sherry Frumkin. Based in an historic hangar at the Santa Monica Airport, ARENA 1 invites internationally known as well as newly established curators to develop innovative and compelling exhibitions.