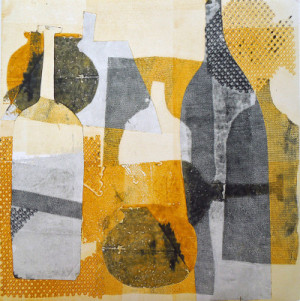 curated by Donna Stein
travelling to the Jerusalem Print Workshop in December 2014
OPENING RECEPTION: Saturday, August 2nd, 5PM to 8PM
CURATOR'S TALK: Saturday, August 16th, 3PM
ARENA 1 is pleased to announce an exhibition of 64 print works selected by curator Donna Stein in the second iteration of an unprecedented exchange between institutions in Los Angeles and Jerusalem. LAYERS OF IDENTITY II will open on August 2nd with a reception for the artists from 5 to 8 pm. The exhibition will continue through August 30, 2014 and travel to the Jerusalem Print Workshop for a December 18, 2014 opening. Of the 111 artists from across the United States who each submitted up to three prints, 57 artists listed below were selected for inclusion in the exhibition.
Melinda Smith Altshuler, Renee Amitai, David Avery, Cynthia Back, Janet Badger, Curtis Bartone, Shirley Bernstein, Mary Sherwood Brock, Karen Butler, Katharine Butler, Jonathan Cartedge, Stephanie Cochran, Robert Creighton, Susan D'Zmura, Samuel Erenberg, Lily Erb, Kevin Frances, Donald Furst, Susan Gesundheit, Eric Goldberg, Yeung Ha, JenClare Gawaran, Jason Howell, Jayne Jackson, Gail Jacobs, Gesine Janzen, Holly Jerger, Lynne Johnson, A. Johnston-Schuster, Philip Laber, Tony Lazorko, Caryl Christian Levy, Miles Lewis, Poli Marichal, Betty Martinez, Kathy McGhee, Diane McLeod, Amanda Mears, R. Bruce Muirhead, Sarah Pavsner, Cheryl Rogers, Michelle Rozic, Ricardo Ruiz, Bill Salzillo, Masha Schweitzer, Richard Sloat, Debra Sokolow, Kelsey Stephenson, Sylvia Taylor, Bob Tomolillo, Ruth Weisberg, Cathy Weiss, Donna Westerman, Liz Wolf, Karen Frimkess Wolff, Rina Yoon, Harriet Zeitlin.
This is the second half of a ground-breaking exchange exhibition co-sponsored and coordinated by the Los Angeles Printmaking Society (LAPS) the Jewish Arts Initiative (JAI) and the USC Initiative for Israeli Arts and Humanities. Curator Donna Stein is Associate Director of the Wende Museum and Archive of the Cold War in Culver City. She has worked as an art historian and curator for more than 30 years, moving between Los Angeles and New York City, Europe and Asia. She has organized exhibitions in all media, primarily on nineteenth and twentieth century art including The Museum of Modern Art in New York, The National Gallery of Art and The Corcoran Gallery in Washington, D.C., The Toledo Museum of Art, The Center for the Fine Arts in Miami, The Detroit Institute of Arts, The Honolulu Academy of the Arts, The Municipal Art Gallery in Los Angeles, Achenbach Foundation for the Graphic Arts in San Francisco and The Pasadena Museum of California Art. She has published over 100 articles and more than 40 books and catalogues related to her curatorial interests. Stein's talk on Saturday, August 16th at 3:00 pm will present an overview of the exhibited original graphics.