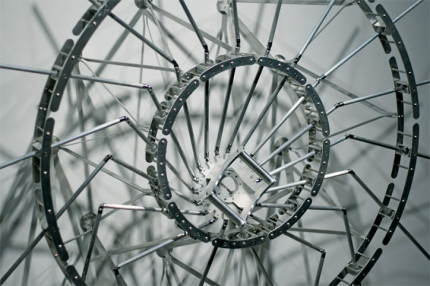 Opening reception: October 12, 7-10 pm
Arena 1 Gallery is pleased to present "Kinetic Show LA", a group exhibition curated by Wendy Marvel.
Mechanical FlipBook • Leif Maginnis • Alex Andre • Robert Reynolds • Neil Mendoza • Nicole Catrett David Barker • Steve Goldstein • Jim Bumgardner • Joshua Kirsch • Rachel Koukal • Barb Noren
EXHIBITION DATES:
September 12th – October 6th 2015
OPENING RECEPTION:
Saturday, September 12 from 7 to 10pm
Arena 1 is pleased to present Kinetic Show LA curated by art duo Wendy Marvel and Mark Arnon Rosen of Mechanical FlipBook. The exhibition brings together artists who explore the convergence of art and technology through kinetics and electronic-based installations. The results are awe inspiring creations that move with the viewers' engagement. This exhibition seeks to affirm the missing link be­tween analog and digital by introducing human interaction.